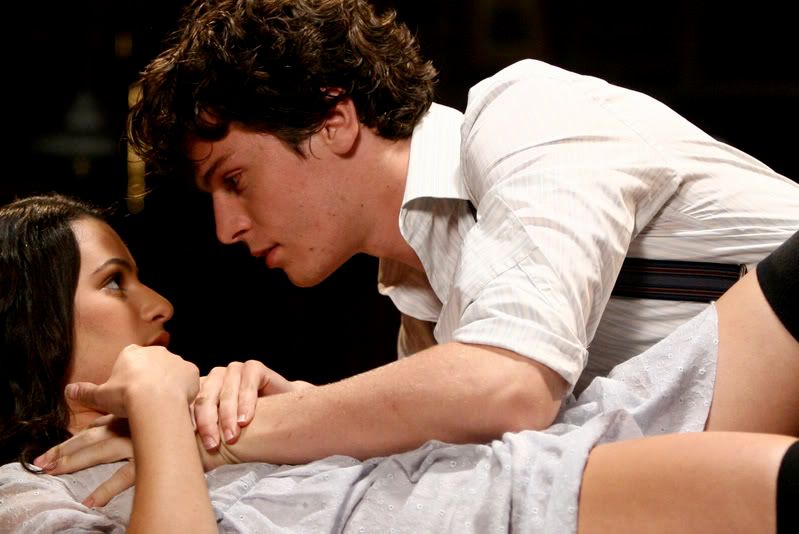 According to the
Carnegie Hall website
, "the Carnegie Hall Notables is a membership group specifically created for music enthusiasts in their 20s and 30s. The Notables program celebrates music through intimate discussions with musicians, concerts, private performances, and exclusive Notables-only social gatherings."
At the October 6
Revival: Broadway's Next Act
panel discussion, films of both Tony winning musicals
Spring Awakening
and
In the Heights
were mentioned.
The panel discussion was moderated by
Ana Gasteyer
and featured
Spring Awakening
composer
Duncan Sheik
,
Legally Blonde
director-choreographer
Jerry Mitchell
, creator-star of
In the Heights
Lin-Manuel Miranda
,
Hairspray

film
director
Adam Shanknman
, and original
Rent
star
Anthony Rapp
.

Playbill.com
states that when the discussion of stage musicals crossing over into film came up, Miranda asked Sheik if there was a
Spring Awakening
picture in the works. Sheik declined to comment, but Shankman noted that the rights had already been acquired.
Shankman also mentioned
Jennifer Lopez
's interest in bringing
In the Heights
to the movie screen. Miranda, like Sheik, declined to comment on a movie version of his 2008 Best Musical and revealed that he will be leaving the show in February of 2009.
I've been dreaming of film adaptations of these two shows.
In the Heights
particularly seems well suited to transfer to celluloid. However, I've always mentioned that with the right director,
Spring Awakening
could make a fascinating film.
The real trick pony in
Spring
's award winning production was the direction by
Michael Mayer
. It utilized the presence of the stage and incorporated theater with live concert characteristics which worked to beautiful effect. The key to making an equally successful film is to really use the media that the source material is being adapted for. The live concert thing (pulling out mics, audience interaction) while working great on stage, would not have the same effect in a movie theater. Hopefully the director of the film can realize this and bring the musical into a true film-ic form.
Perhaps when the music starts, the editing and cinematography shifts from basic linear storytelling techniques to more contemporary music-video stylings - incorporating slow motion, odd camera angles, inter-cut crossfades and wipes, and metaphoric staging. Instead of pulling out a mic from the jacket pockets, when Melchior starts to sing "All That's Known," a shift in camera tone will allow the song to be presented in a more Nirvana's "Smell's Like Teen Spirit" filtered through a
Michel Gondry
lens of REM's "Losing My Religion."
The possibilities of the film format for
Spring
are exciting to ponder about. I just hope that once the project is greenlighted, that the producers and directors of the film be artistically engaged in the project as a
film
and not a filmed version of the stage show.
The Producers
we not need another.
Sweeney Todd
and
Chicago
adaptations, yes.
Even better, maybe the creative team behind
Once
could offer up some pointers on how to truly make a wonderful movie musical.